hrafnkell birgisson
Studio Berlinord was founded in 2010 by designer Hrafnkell Birgisson.
Born in Reykjavik, Hrafnkell entered the Iceland College of Arts & Crafts and later moved to Germany where he graduated as a product designer - from the Academy of Fine Arts in Saarbrucken.
The conceptual work of Hrafnkell covers the fields of product design, exhibition design and interior architecture. His work Hoch die Tassen has become a design classic, displayed in design stores and gallery shops all around the world, while the Tools You Bake baking tins and the ongoing Vik Prjonsdottir knitting-project are examples of self-initiated collaborations with fellow designers and small local manufacturers.
Hrafnkell has developed and tutored courses internationally since 2001 including the De-Ikea workshop, a series of classes he also tutored at the Bauhaus University in Weimar and at the California College of the Arts, San Francisco. His designs was published in the International Design Yearbook 2007, in the book Furnish from Gestalten Verlag and was selected for the Shaping the New Century-European Design since 1985 exhibition which opened at the Indianapolis Museum of the Arts in 2009.
"My goal is to create design that has a unique story to tell. To achieve this I engage in interdisciplinary dialogs and collaborations to learn from people with exceptional skills and experience."
Contact:
STUDIO BERLINORD
Tordenskjoldsgade 17
1055 Copenhagen
design@hrafnkell.com
+354-8964834
collaborators
Colleagues and collaborators:
Our talented colleagues at Studio Hany Summa in Berlin are extraordinary partners for exclusive product development and small-scale production.
Sebastian Summa, designer:
"My passion for materials, especially metals, grew significantly during my time as a blacksmith. I expanded on this experience throughout my design studies at the University of Applied Sciences in Potsdam by using both traditional and new materials, crafts and techniques. At our Berlin studio we transform ideas into prototypes, then later into small product series or unique, one-off pieces."
Jo Hany, designer:
"Sebastian and I previously worked for a company producing sculptures and art installations for contemporary artists. This period refined our crafts skills and deepened our knowledge of materials. It gave us a good impression of how different applied artists work, an experience which has influenced our own practice ever since."
Thomas Bräuer and his Berlin-based and family-run metal spinning factory - in 4th generation!
An Icelandic creative brand designing and producing unique quality products from Icelandic sheep wool
Our head photographer in New York
The Royal Danish Academy of Fine Arts, Schools of Architecture, Design and Conservation
The Iceland Academy of the Arts - providing higher education in visual arts, theatre arts, music, design and architecture
The University of the principality of Liechtenstein in the Alps
California College of the Arts in San Francisco
One of the most dedicated German wood-turners - based in Ziesar, state of Brandenburg
A Frankfurt-based studio developing concepts and product ideas based on new materials, production processes and research
A family owned label and workshop - situated in the countryside by the village of Ascheberg in Westphalia, Germany
A fashion and portrait photographer based in Reykjavik
An international design network for contemporary product design which organizes the yearly DMY International Design Festival Berlin
Technische Glaswerke Ilmenau is an independent full-system supplier of specialist technical glasses on the global market - and goes beyond glass!
One of the most successful German porcelain brands, founded by Christian Eckardt in 1844 and re-established in 1994, after the reunification of Germany
The porcelain manufacturer and brand Rosenthal is known for its ground-braking cooperations with international designers, architects, artists, craftsmen and celebrities and for founding the first chain o design-shops world-wide in 1960
Sesselja Hrönn Guðmundsdóttir (Dedda)
Our sorely missed unique colleague, friend and believer who untimely passed away in the beginning of her artistic carrier
Aðalsteinn Stefánsson,
a set and lighting designer working out of Iceland and Denmark
One of last century's greatest contributors to design - a "mad man" of the sixties - a graphic designer, author, lecturer and educator - today living and working from his organic farm in Hornbæk, Denmark
A Frankfurt-based product- and interior designer and lecturer at the faculty for product design at the HGK Basel, Switzerland
Few danish colleagues and their studio in Copenhagen
The revival of the cult shoe-brand from the GDR - originally founded in 1897 in Weida, in the state of Thuringia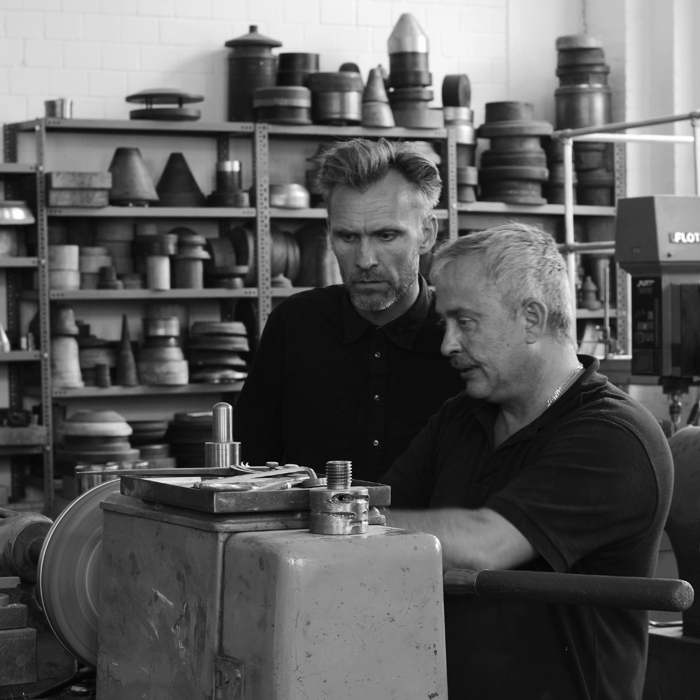 Hrafnkell Birgisson and Thomas Bräuer
Jo Hany and Sebastian Summa